Backstory
Edit
robot alive thanks to the GLIDER
Slow and weak
Wait for him to hit the ground and attack. He is more vulnerable when on the floor. Don't climb on the sides or he will grab you and smash you.
The Dying King
Edit
Backstory
Edit
became a god thanks to the GLIDER.
Fast and strong. Weak against melee, resistant against ranged.
Wait for him to dance, and attack. Roll after he attacks to dodge his powerful attack once he gets back up. Watch out for when he dies: after he explodes people will do anything to kill you.
The Corrupted Leader
Edit
Backstory
Edit
Ran away after he found the GLIDER, and hid on top of the tower where nobody can get him.
Very weak, but fast. He can outrun you, so chase him down till the end.
Follow him to the end without killing him. If you kill him most probably the helicopter will destroy you before you teleport.
The Mortal Scientist
Edit
Backstory
Edit
After losing his beloved wife, he makes things right by trapping his brother in the Mansion after testing his powerful serum on his skin. He then was able to bring back the lady to life after powering her remains with a GLIDER.
Very strong, but slow.
Keep its distance and try to roll whenever he jump-attacks. Keep in mind that he is not the one who keeps the GLIDER, so you don't need to kill him. As long as you destroy her you'll be fine. Focus on the GLIDER, that's all you need.
The Guardian
Edit
Backstory
Edit
Powerful robot that guards the AI lab. Geoff from the IT department was able to survive in the structure for enough time to blend his intelligence with the mother AI and rapidly build a giant metal mechanic guardian in order to protect the energy chamber.
Strong hands, powerful head. Only needs 4 hits to kill it.
Wait under his hand, then after he smashes it, jump on it and attack the pilot on his forehead.
Backstory
Edit
A.I. that escaped from space. She has trapped herself in the CASTLE to avoid being captured.
No HP. Needs 3 stages to beat her.
Attack the A.I. whenever she is surrounded by speckles. Then move to where she is and crouch to activate the HUB. Each circle needs to not touch the lines (individually). Press the action button every time you need to lock a circle. Press the left or right key to switch directions. Press the up and down key to move in or out of the circles.
Don't mind the humans, they are pretty much harmless, just stay focused on the A.I.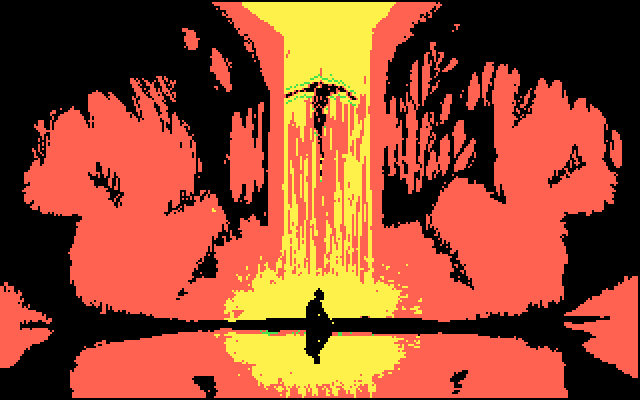 Community content is available under
CC-BY-SA
unless otherwise noted.