The Eternal Castle: REMASTERED Wiki is a community site that anyone can contribute to. Discover, share and add your knowledge!
Trending articles
Popular categories
View full main page
Index
Welcome to the Wiki
Welcome to the wiki. We're a collaborative community website about your topic that anyone, including you, can edit. Click the edit button at the top of any page to get started!
About The Game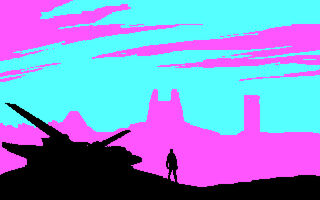 The year is 2XXX. You are a lone soldier who was sent back to Earth to get back into space a corrupted A.I. during a post A.I. fallout. During the journey, you lose 4 GLIDERS during an air attack and crash the ship. The only hope is to get back the ship parts, fly to the Castle, where the mother A.I. locked herself to seek protection from the corrupted humans, and send her back to space. Throughout ancient ruins, battlefields, and desolated laboratories, your only hope is to move forward with determination to bring her back home.
The complete game is composed by 4 worlds plus THE ETERNAL CASTLE: WILDERNESS(INTRO), ANCIENT RUINS, FORGOTTEN CITY, TECH LAB. Each world will have 4 levels, each world has a different kind of gameplay, leading up to a final boss. Each level will be composed into 3 main consistent sections (INTRO, MIDDLE, ENDING), and a variety of procedurally generated modules in between those sections. Every time the game is played, the audio-visual experience will vary, but the atmosphere and the story will remain consistent.
Game Features
Enjoy the atmosphere or speedrun through a post-AI fallout packed with challenges
Meditate, Predict, and Wake up, in the eternal dream with Adam or Eve
Fight your way through the Ancient Ruins
Shoot your way through the Forgotten City
Sneak by monsters in the Unholy Lab
Enter the Eternal Castle
Collect all 4 GLIDERS to power up your ship
Use up to 10 different weapons
Unlock up to 10 different items
Find all missing FRAGMENTS to get back home
Repeat the dream for as many times as you can before reaching the end